Tank Monitors
How much would an immobilised fleet cost you?
Fit a tank monitor to your oil tank and help minimise the risk of running low, or out of oil. These devices are user friendly. Levels in the tank are clearly displayed on a receiver unit for the user to view at their convenience.
The tank monitor fits most standard tanks and sends a radio signal to a plug socket in your home. The monitor reads from 9, which is full down to 1, which is nearly empty. You should look to order at level 3.
---
Apollo Smart

Apollo Smart is the world's first home energy monitor. Utilising tried, tested and proven technologies, Apollo Smart allows heating oil users to identify the volume of fuel remaining in their tank, monitor heating costs, consumption and emissions too. Apollo Smart  now incorporates as standard a Fuel Theft Alarm giving heating oil users that added peace of mind knowing they will be alerted to any sudden level drops within their tank.
Inbuilt Fuel Theft Alarm
Analyses the volume of fuel remaining and displays Estaminated Days To Empty
You can monitor fuel costs and heating oil usage
Reduce heating costs
Wireless, with up to 150m metres range
For more info click here
---
Apollo Visual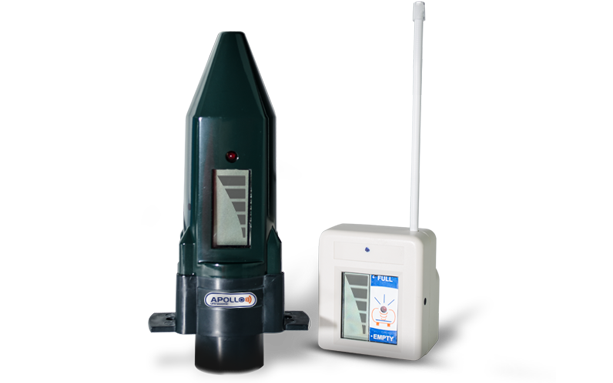 The revolutionary Apollo Visual as well as reporting the fuel level to a plug in receiver also has a built in LCD display on the transmitter incorporaApollo Visual corporate leafletting an on tank level. This allows the fuel level in the tank to be checked and monitored before, during and after filling giving a Visual Overfill Warning at the point of fill helping combat costly over spills. The unit comprises of a tank mounted transmitter unit with a built in Visual LCD display and a plug in receiver unit.
Visual on tank level
Quick & Easy installation with no specialist tools required
Wireless, with up to 200m metres range
Reduce heating costs
Monitor the status of the tank before, during and after refueling
For more info click here
---
Peak Signalman
We also offer a Signalman which is an oil tank gauge, that automatically sends a signal to our office via your telephone line. This service allows us to monitor your oil supply for you, meaning you no longer have to worry about checking your tank and ordering when levels are low.
With Signalman we will deliver automatically once device reports your tanks has reached its reorder level. This will ensure you will never run-out of fuel, also we will be aware of any sudden drops in oil level so we can advise you whether there has been a theft or a leak.
Product and fitting is free of charge however we will charge you £72 per year (inc. VAT) for this service.
---
Interested in buying a Tank Monitor?
---
Like to know more?