Commercial and Haulage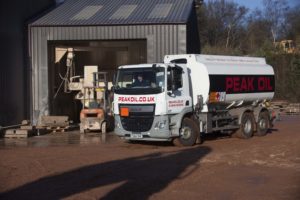 Peak Oil is equipped with the necessary resources and knowledge to satisfy commercial and haulage customers through supplying a range of fuels such as Red Diesel/Gas Oil, Road Diesel, Kerosene, Adblue and Lubricants.
Regardless of your business size, or location, we can provide fuel directly to your premises. Bulk deliveries can be from 500 litres (or 200 litres if you have the correct container) up to 24,000 litres in one drop saving you time.
Peak Oil is a knowledgeable and independent family owned business.  We like to know our customers requirements and understand that the price is an area of concern.  We provide competitive prices based on your location, delivery date and quantity. Through having a personal approach, consistent deliveries and a reliable service we are able to create exemplary relationships with our commercial and haulage clients.