Oil Tanks
Is your old oil tank a little rusty around the seams?
New anti-pollution regulations mean that a leaky oil tank could be a very expensive liability and if you have a large old tank, you may already be breaking bunding laws.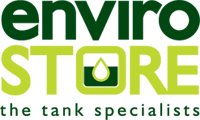 Many of our tanks are supplied by the Envirostore – the UK's tank specialists. They produce a quality tanks from the best base materials and the most reliable fittings which will provide many years of reliable storage for fuel.
Bunded tanks have a 10 year warranty and each come with free Apollo Visual (£95) and Fittings Pack.

Free delivery in our area.
Outside of our area in the Uk delivery is £95. Scotland and outside of the Uk, please call 01246 450242 or email sales@peakoil.co.uk for a price.
We can offer a free site survey.
Talk to Peak Oil now about fitting a new generation rust-free polyethylene tank, complete with integral bunding and tank monitor. To make an appointment or receive a quotation fill out the form below.