AdBlue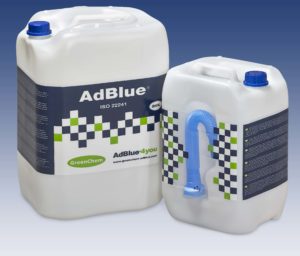 AdBlue is the new quality solution for latest generation commercial vehicle diesel engines fitted with Selected Catalytic Reduction (SCR) Systems.
Since 2014, Stage 4 Emission legislation for non-road vehicles requires the use of AdBlue and SCR in all new non-road diesel vehicles. These are non-road machines such as:
Construction equipment such as: excavators, bulldozers, dump trucks, wheel loaders,
Agricultural machinery such as: tractors, combine harvesters, self-propelled forest harvesters (SPFH), and other harvest machinery.
Generator sets, reach stackers, forklift trucks, AGVs and many more.
All these newly purchased machines will be using AdBlue to reduce the NOxemissions from their diesel-powered engines.
Our supplier GreenChem has special non-road AdBlue-resistant equipment  and dedicated AdBlue dispensing systems that ensure easy refilling of your machine's AdBlue tank.
AdBlue delivery charge in the Uk is included in the price.
Find out more about GreenChem
For specialist advice and competitive costs, please contact us now:
Telephone: 01246 450242 or email sales@peakoil.co.uk